Remember the year I painted my 28 week pregnant belly as a pumpkin? Or as I so aptly named it, my "bumpkin"?
And then, of course, for Braden's first Halloween he was my sweet little giraffe! I found the perfect giraffe costume, and best part was that it was used so it was super cheap!
Last year he was an adorable Cookie Monster because...well...he LOVED cookies and I figured it might be my last year of picking his costume!
This year, Braden was going to be a Jedi. We got him a light saber and he was excited about it....but then came the blizzards. It was -12 C with the wind chill on Halloween...but it honestly felt like -20! So his little fleece Jedi costume just was not going to cut it. So? Out came trusty Cookie Monster again! It still fit him, it was super soft and warm, and we could fit lots of layers underneath. I guess you're not a Canadian kid if you haven't gone trick or treating a handful of times with your snowsuit as your costume!...so luckily he could still wear his.
The thing about this Halloween? I was thinking I'd be painting a HUGE belly again! I did not anticipate nor prepare for the early arrival of a second trick or treater! Laura and I went to the mall the week before Halloween...and there was NOTHING left. Carter's had costumes for 3-6 month+, but no newborn costumes or Halloween shirts even! In fact, that was the only store that had a hint of Halloween left! Christmas had taken over already. So? What's a mom to do? Call her own mom! As many of you know, my mom moonlights as
Poppy The Crazy Hat Lady
, so I asked her if she could whip up Ethan an Elmo hat to go with his older Cookie Monster brother. No problem! So...here's my Cookie Monster & Baby Elmo!
They are adorable! But this was after Jay took Braden trick or treating and Braden was exhausted! Ethan was clearly having none of it...but it's something I'll never forget - that's for sure!
And cousin Blake was a cute little baby calf!
Maybe Ethan will enjoy Halloween a bit more next year? I'm kinda bummed I didn't get to take nice pictures of the boys, like I usually do...but weather did NOT permit!
I truly loved seeing all the social media kids' costumes streaming my Twitter & Instagram feeds! Come and link up and see even more adorable costumes!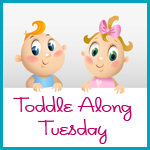 Please please please keep voting for my 3 pictures! You have to like their FB page first, and then you can vote every 24 hours until November 15th! Cash prize....I'd really appreciate your support!