Have I ever mentioned how much I
love
being a boy mommy? Seriously! I would be so happy if all we had was boys, but of course my heart longs for a little girl too. But what would I do with her? I am already so used to playing with "vrooms" and tractors and watching
If I Were a Digger
for the 463rd time...what would I ever do with a little girl? All the cute little bows and headbands...what would I do? Barbies? I loved them as a kid, but now? Hmmph! I guess we'll cross that proverbial bridge if we ever get there!
Now, back to the subject matter...boy toys! Boy mommies, seriously...invest in these:
Caterpillar (CAT) makes these
amazing
construction toys. They are quite big and are full of battery-powered amazingness! They can move forwards and backwards all on their own, the lights flash, they play a little snippit of rock music (as seen in
this video
from the other day!)...and each individual toy can work like it does in real life. There is a front loader, a dump truck (as seen above), an excavator, and a bull dozer. We have the first 2 and bought the last and are trying
really
hard to save them as Christmas gifts. The best part? Only $15 (in Canada) each! As far as I know Costco still has them, so go grab them up! Here's a few pics of Braden playing/dancing with his CAT toys...
Speaking of being a boy...this scares the you-know-what out of me...
Watching motocross on TV with Daddy the other day and I think he liked it :( I know it's inevitable having a farm-boy baby...but the pediatric OR nurse in me is not looking forward to the injuries that incur with such sports!
Back to the toys, we also got Braden one of these for his birthday this year:
A road map rug which Jay assures me will be a favorite of Braden's as he gets older as Jay loved his as a kid. And the next big thing I want to get Braden when he's potty trained (hopefully it will be good motivation) is a train table:
One day the change table will be out and the train table will be in! I think he'll love it, his eyes were just wide open the first time he saw
Thomas
on TV the other day. "Choo choo!" he learned instantly! He does think that a train is just another tractor though. That's my
boy
!!
What's your favorite boy toys, boy mamas?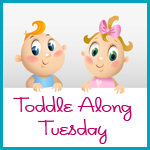 If you're new from the TAT hop - welcome! Hope you'll follow along, just be sure to say hi so I can return the favor!